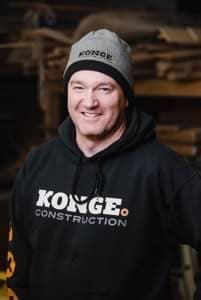 Niels was born in Salmon Arm, BC and grew up on a dairy farm in Mara, BC. Councillor Niels KongeThere was always a lot of work to be done on a family farm and life was busy with school, work and play. The most interesting work on the farm for him was always building or fixing new barns, sheds, fences and always trying to damn up the creeks. After graduation Niels hung around the Okanagan working construction during the summer and coaching downhill skiing in the winter. In 1993 Niels ventured to Denmark and was promptly offered an apprenticeship in carpentry. Living in Europe sure opened his eyes to a different way of living compared to the farm.
In 2001 Niels returned to Canada and an adventure brought him to Yellowknife. Niels met Renee 3 weeks after his arrival and decided that he should stick around Yellowknife for longer than originally anticipated. They started Konge Construction on January 1, 2003 and got married January 3, 2003.
Almost 12 years later they still chose to call Yellowknife their home, and try and make it the best place to live for themselves, their neighband their community. Niels look forward to the challenges that being a councillor will bring and hopefully the ideas and values that he bring to the table will continue to make Yellowknife a great place to choose to live, play and work.